Graham Field Wheelchairs
Graham Field Wheelchairs range of wheelchairs is made up of the following wheelchair types:
Self Propel Wheelchairs
Bariatric Wheelchairs
Power Wheelchairs
About GF Health Products
Headquartered in Atlanta, GA, GF Health Products, Inc. ("Graham-Field") is one of the world's leading manufacturers and distributors of medical products in the health care industry, offering approximately 4,000 medical, rehabilitation, long-term care and homecare products.
Our offering is comprised of our quality brands such as Everest & Jennings, wheelchair and seating products.
Our innovative distribution programs and "Single Source" marketing strategy provide dedicated service and quality products to the health care market in a variety of market segments.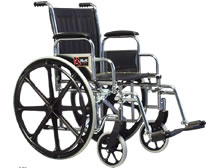 Original text: GF Health Products
Copyright Information
All textual information and product images that can be found in this section is/are copyrighted.
For further information click here »
Top 10 Rated Wheelchairs
Patriot Self Propelled Wheelchair
Quickie® RXS Self Propelled Wheelchair
Quickie® Prelude™ Power Wheelchair
Top End Terminator Titanium Self Propelled Wheelchair
Esteem Steel Self Propelled Wheelchair
Quickie® Ti All Court Sport Wheelchair
Compass SPT Limited Transit Wheelchair
Jazzy Select 14 Power Wheelchair
TDX Spree Power Wheelchair
Top End Paul Schulte Signature Titanium BB Sport Wheelchair
Find Wheelchairs By Type
All Types of Wheelchairs
Self Propel / Manual Wheelchairs
Attendant / Transit Wheelchairs
Electric Wheelchairs
Power Wheelchairs / Chairs
Active / Sport Wheelchairs
Tilt In Space / Reclining Wheelchairs
Tilt Power / Electric Wheelchairs
Heavy Duty / Bariatric Wheelchairs
Paediatric / Children's Wheelchairs
Paediatric / Children's Electric Wheelchairs